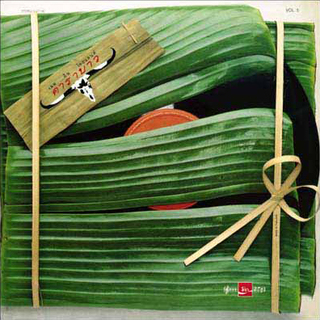 Way back in 1984 this song blasted out of speakers up and down the country, the title track of the Made In Thailand (เมดอินไทยแลนด์) album put the rockband Carabao on the musical map.
เมดอินไทยแลนด์ แดนดินไทยเรา
met in tai-laen daen-din tai rao
"Made in Thailand", This land of ours,
เก็บกันจนเก่า เรามีแต่ของดีดี
gep gan jon gao rao mee dtae kong-dee dee
Since the ancient times, we made many good things,
มาตั้งแต่ก่อนสุโขทัย มาลพบุรี อยุธยา ธนบุรี
maa dtang-dtae gon soo-koh-tai maa lop-boo-ree a-yoo-ta-yaa ton-boo-ree
Before Sukhothai, through Lopburi, Ayuthaya, Thonburi,
ยุคสมัยนี้ เป็น กทม
yook-sa-mai nee bpen gor-tor-mor
Now we´re in modern day Bangkok,
เมืองที่คนตกท่อ (ไม่เอาอย่าไปว่าเขาน่า)
meuang tee kon dtok tor (mai-ao yaa bpai waa kao naa)
The city where people fall down the drains (Oh no. Don´t blame anyone!)
เมดอินไทยแลนด์ แดนไทยทําเอง
met in tai-laen daen tai tam eng
"Made in Thailand", made in our own land,
จะร้องรําทําเพลง ก็ลํ้าลึกลีลา
ja rong ram tam pleng gor laa leuk lee-laa
Sing a song with meaning, dance a dance with style,
ฝรั่งแอบชอบใจ แต่คนไทยไม่เห็นค่า
fa-rang aep chop-jai dtae kon-tai mai-hen-kaa
Foreigners like our products, but Thais don't see their value,
กลัวน้อยหน้า ว่าคุณค่านิยมไม่ทันสมัย
glua noy-naa waa koon kaa-ni-yom mai tan-sa-mai
Afraid to lose face, that liking Thai products isn't fashionable,
เมดอินเมืองไทย แล้วใครจะรับประกันฮะ
met in meuang-tai laew krai ja rap-bpra-gan ha
Made in Thailand. Hey, who´s going to do something about this?
(ฉันว่ามันน่าจะมีคนรับผิดชอบบ้าง)
(chan waa man naa-ja mee kon rap-pit-chop baang)
(I think someone should accept the blame for this.)
เมดอินไทยแลนด์ แฟนแฟนเข้าใจ
met in tai-laen faen faen kao-jai
"Made in Thailand", All you fans understand,
ผลิตผลคนไทยใช้เองทําเอง
plit-pon kon-tai chai eng tam eng
That these are products made by Thais, used by Thais,
ตัดเย็บเสื้อผ้ากางโกงกางเกง กางเกงยีนส์
(ชะหนอยแน่)
dtat yep seua paa gaang gohng gaang-geng gaang-geng-yeen (cha noy nae)
We sew the clothes, the trousers and the jeans,
แล้วขึ้นเครื่องบินไปส่งเข้ามา
laew keun kreuang-bin bpai song kao-maa
They´re sent off by air, only to be imported back again,
คนไทยได้หน้า (ฝรั่งมังค่าได้เงิน)
kon-tai dai-naa (fa-rang mang kaa dai ngern)
It's the Thais who gain face (but it's the foreigners who get the money – Oh yeah!)
Dm Am Gm
Am Dm
(2 ครั้ง)
เมดอินไทยแลนด์ พอแขวนตามร้านค้า
met in tai-laen por kwaen dtaam raan-kaa
"Made in Thailand", But when displayed in the shops,
มาติดป้ายติดตราว่าเมดอินเจแปน
maa dtit-bpai dtit dtraa waa met in jay bpaen
They put on a label that says "Made in Japan",
ก็ขายดิบขายดีมีราคา
gor kai-dip-kai-dee mee-raa-kaa
Then they sell well, sell for high prices,
คุยกันได้ว่ามันมาต่างแดน
kui gan dai waa man maa dtaang-daen
We can say that they come from abroad,
ทั้งทันสมัย มาจากแม็กกาซีน
tang tan-sa-mai maa-jaak maek-gaa-seen
the latest fashions, from the magazines,
เขาไม่ได้หลอกเรากิน
kao mai-dai lok rao gin
It wasn't the foreginers who cheated us,
หลอกเรานั่นหลอกตัวเอง…เอย
lok rao nan lok-dtua-eng … oie
But it was us who cheated ourselves…oh….
Get the Album here.